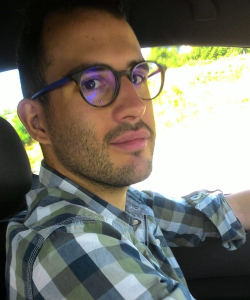 Vincent Lepec is a research and development engineer working in the Innovation team of Viaccess-Orca company.
He studied in one of the pioneering place of Virtual Reality in France at the Arts & Metiers ParisTech engineering school of Laval (in collaboration with Laval Virtual and CLARTE). With a double research and technological master in innovative and immersive technologies as well as numerical modeling (CGI), Vincent started his career in industrial design and automotive industry at estech, a high-tech design company, where he initiated the development of Virtual-Reality activities (visualisations, simulations, collaborative platforms).
Then he shifted within the creation of a startup specialized in digital prototyping where he monitored the development of interactive and immersive products.
Vincent is now in charge of the development of VR products line for Viaccess-Orca, an Orange company, as prototyping and development engineer in innovative and immersive fields applied to numerical TV technologies.
All

Artanim

CERTH

CWI

i2CAT

Motion Spell

The Mo

TNO

Viaccess-Orca