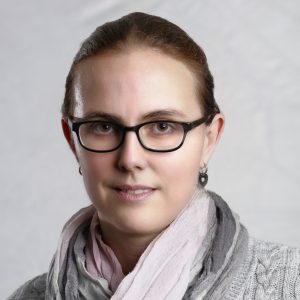 Dr. Caecilia Charbonnier was a professional tennis player (4th in Switzerland, WTA 256 in 1999). Following an injury to her shoulder, she became interested in computer graphics and sports medicine. She first obtained a Master of Advanced Studies (MAS) in 2006 in Computer Graphics at EPFL and a PhD degree in Computer Science in 2010 at MIRALab – University of Geneva. She is the Founder and current President & Research Director of Artanim, a center specialized in motion capture technologies, Founder & CTO of Dreamscape Immersive, a VR entertainment company, and President of the National Thematic Network Virtual Switzerland. She is also Privat-docent at the Department of Radiology and Medical Informatics, Faculty of Medicine, University of Geneva.
Her work focuses on the interdisciplinary use of motion capture from 3D animation, live performances to movement science, orthopedics and sports medicine. Her research interests include joint biomechanics – in particular the 3D modeling, motion analysis and simulation of native or prosthetic joints – virtual and augmented reality, real time motion interaction and 3D body scanning. The results of her research have been published in more than 80 international journals and conferences.
Caecilia has been awarded the 2009 Walthard Prize from the University of Geneva, the 2009 Eurographics Medical 1st Prize, the 2011 ISAKOS Achilles Orthopaedic Sports Medicine Research Award, the 2014 Best Technical Paper Award at the 14th CAOS Meeting, and a special distinction for the best poster discussion at the 15th EFORT Congress in 2014. Her VR platform "Real Virtuality" was also a finalist of the Immersive Realities (VR/AR) contest at SIGGRAPH 2015, selected at the Sundance Film Festival New Frontier 2016 and won the 2016 Laval Virtual Award. The virtual reality dance piece "VR_I" created by Cie Gilles Jobin & Artanim was finally rewarded with the Innovation Award and the Public Award at the Festival du nouveau cinéma of Montreal 2017 and selected at the Sundance Film Festival New Frontier 2018.
All

Artanim

CERTH

CWI

i2CAT

Motion Spell

The Mo

TNO

Viaccess-Orca