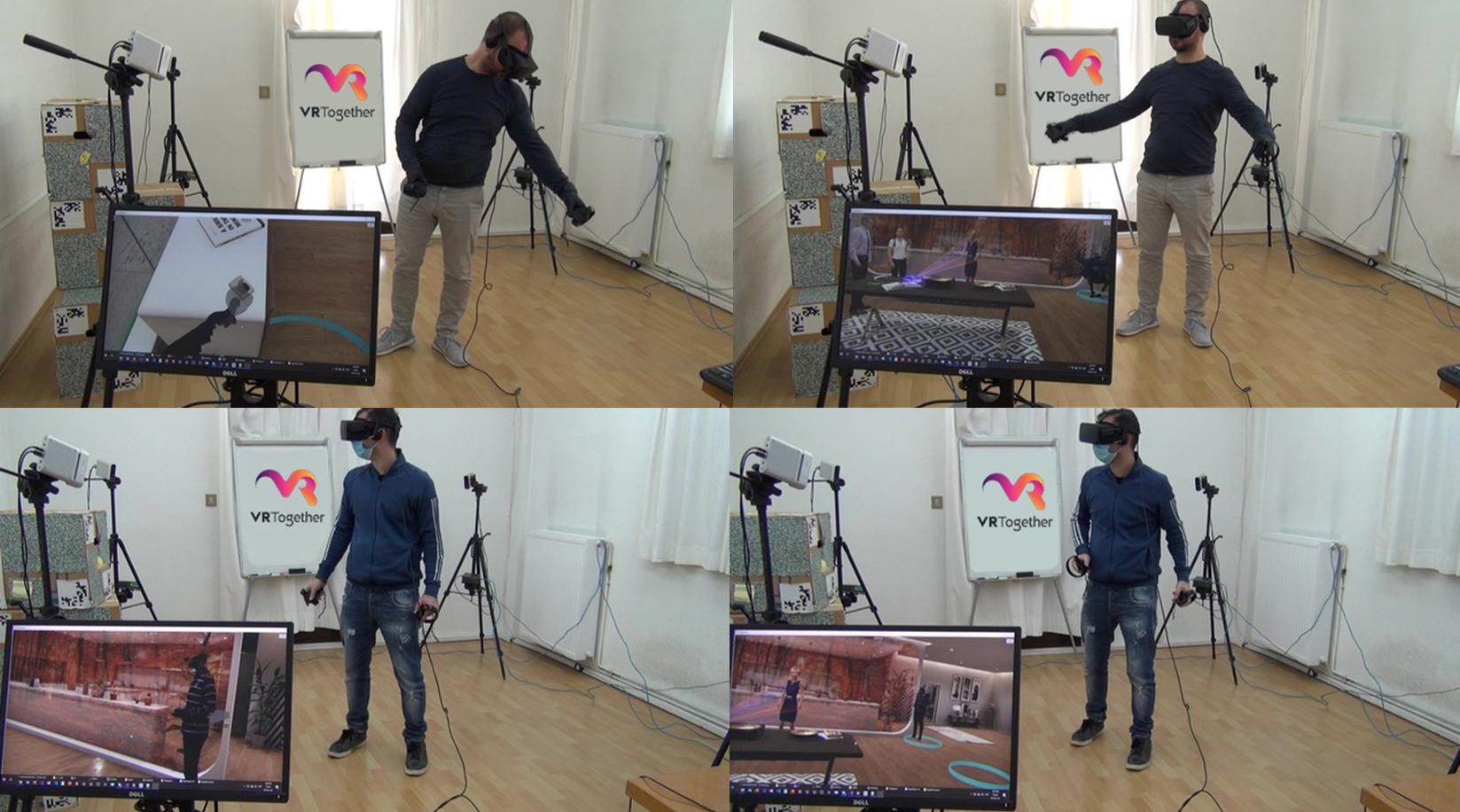 Pre-Pilot Technology Test in CERTH premises
Pilots are checkpoints to evaluate the creative and technical challenges of the project, aiming at assessing the performance of the technological developments, validating and refining the defined evaluation methodology and assessing the appropriateness of the technology and created scenarios / content to provide truly realistic and interactive social VR experiences.
CERTH successfully completed 2 full 2-user sessions with TVM v3 (mesh-based volumetric video) representation between 4 users in total. In Pilot 3, the experience attempts to increase the sense of immersion and togetherness. While having a maximum of five users with a live representation and a variety of different representation options (3D avatar, 2D video, single and multi camera point clouds, TVMs), users have also the ability to join a session as spectators or even with no representation at all. The Pilot3 VRTogether scenario resumes and concludes the same storyline, while taking part in a virtual apartment of great detail. It also includes three 3D avatars which interact with the users through voice instructions for specific actions using the Oculus Rift controllers and a simple form of dialog resulting in binary answer questions.
In CERTH premises we set up two capturing nodes with four Kinect4Azure depth sensors each. Following the Pilot protocol and all the hygiene protection rules designed by our consortium partner, CWI, we were able to conduct two 2-user sessions using the Pilot3 VR scenario of VRTogether's platform. Both users were represented as TVMs and were able to successfully complete the scene's interactions through the Oculus Rift's controllers and its microphone.
Unfortunately we were not able to proceed with a bigger number of participants, as a result of the local COVID19 restrictions. Participants filled questionnaires before and after the sessions, as instructed by the used protocol, while all metrics integrated in VRTOGETHER's platform were captured.

This project has been funded by the European Commission as part of the H2020 program, under the grant agreement 762111.