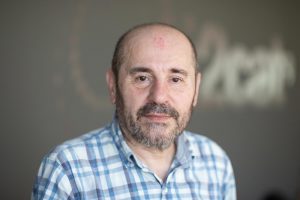 Juan Francisco Martinez is a Senior R&D expert at i2Cat Foundation (Barcelona, Spain). He has more than 20 years of experience programming in C/C++. Currently, he is working on parallelization of point cloud processes to increase the speed, using CUDA. He has wide expertise in computer vision, 3D, GPU optimization and OpenGL.
Before joining i2CAT, he has worked for many companies, such as Orbital Critical Systems, Indra and ShowCube. He has used Scrum methologies and Jira in his previous jobs.
His professional career has been mainly developed in the military sector, in electronic maintenance and in the IT sector. He studied at the School of Electronics Specialist of the Air Force of Cuatro Vientos in Madrid, from 1975 to 1980.
More details can be found at: http://www.alestilodepinto.com/curriculum
All

Artanim

CERTH

CWI

i2CAT

Motion Spell

The Mo

TNO

Viaccess-Orca